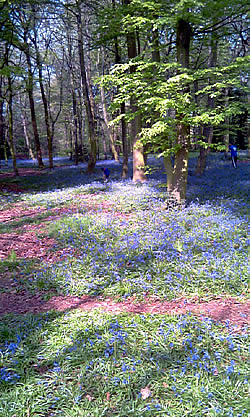 Chalet Wood is famous for its display of bluebells (photo gallery), which can typically be seen from about mid-April for two or three weeks (depending on seasonal conditions).
2019: Earliest sighting: March 19th (spring conditions arrived very early this year). Peak: probably the week after Easter (21st April).
Chalet Wood is a small part of Wanstead Park, which is turn managed as part of Epping Forest. The whole area is very popular with walkers (with and without dogs, which are excused leads) and with families. The Temple visitor centre is close to Chalet Wood, and nearby there is the Café in the Park (outdoor seating) overlooking Heronry Pond, open weekends all year, and also mid-week in the Summer months.
Bluebells are unusually delicate, and this wonderful spectacle could easily be lost if visitors don't play their part in the efforts that go into conserving them. Please don't walk on them, or allow your dog to trample them! Please take your litter home!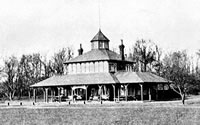 Chalet Wood takes its name from a Victorian refreshment chalet, which stood where the restored chestnut avenue now is, opposite The Temple. Of wooden construction, it was destroyed by fire in 1950. (Photo FOWP)
Wanstead Park is one of the best sites in London for bird-life, including ducks, geese and swans - over 2,000 species have been recorded by the local conservation group the Wren Group.
Want to know more about Epping Forest, including a programme of guided walks? See Epping Forest Heritage Trust, and Friends of Wanstead Parklands. Like a pint? See also this map of Forest pubs.
Wanstead Park "is open 8am to dusk throughout the year" but in practice is always accessible. Chalet Wood (blue marker) and the main entrances (red markers) are shown on the map below. Note that buses W19, 101 and 308 stop close to the discreet Blake Hall Road entrance on the Western end of the Park (Bus map pdf download here. Verified April 2019).
Tip: Zoom the map below as needed; click the markers for more information, including postcodes to use with SatNav or the Transport for London website.
Note: this page depends on an external service, which is very occasionally slow to respond, so come back later if you can't see the map!
Page by